Four Years Alive.
On the evening of Thursday, December 6, 2007, my mom was driving me home from The Children's Hospital in Aurora, Colorado. We were discouraged. The whole reason for my flight home had been to get checked out at Children's by Dr. Glancy's successor. But I hadn't fit into the pediatric MRI machine because my shoulders were too wide. They had been able to draw my blood, but that was more of a formality, and very unlikely to tell us anything. Tomorrow, we'd find an adult MRI machine, get me imaged, and hopefully get me into the doctor. It was so frustrating, having come all this way to be seen today, only to be delayed. Especially because we knew the problem: the reoccurring nonspecific benign lesion in the bone of my upper right arm was back again.
For months, I had been trying to get doctors in New York City to x-ray it, to diagnose it, and to treat it, but every orthopedist I went to see thought it sounded too much like cancer. I kept explaining that I had had this thing in my the same exact spot in my right humerus before, and that my orthopedist back home had removed it three times before. During each of the surgeries, pathology had been run on what was taken out of my bone, and each time, it was pretty inconclusive. But one thing had been absolutely certain each time: it was not cancer.
The first operation had been when I was twelve. I had shattered my arm playing basketball. Not because I ran into someone or because I twisted my arm in a weird way while shooting the ball. Evan had lightly tossed me the ball from a few feet away, and that light force had been strong enough to create multiple hairline fractures in my arm. It turned out there was this lesion in my humerus that had been growing from within the marrow, outward, eating the bone until it was paper thin. I remember feeling pain in it years before that, when I was even younger; once when I was reaching for something under a cabinet, and another time when I stretched my arm way over my head. Looking through old x-rays in which my right humerus happened to appear, it looked like the lesion had been growing there for a long time. Or at least as long as my humerus had been sneaking into x-rays of other things like my lungs and my elbow.
I was twelve at the time, in the seventh grade. I went to the Children's Hospital, and was seen by the head of orthopedics at the time, the great Dr. Gerard Glancy. He ended up operating on that same unspecified, non-cancerous lesion three times: that first time, when I was twelve, then when I was fourteen, and again when I was nineteen. Each time, this thing, whatever it was, had been definitively referred to as "dead." It was not an active infection of any type, and it definitely wasn't cancerous. But it kept coming back. It was confusing to everyone involved: to Dr. Glancy, to the pathologists, to my family, and to me. But I guess eventually we just came to accept it as that weird thing I had.
The orthopedists I visited in New York City did not see it that way. To them, my tale was dubious, at best. It sounded like cancer to them. I tried to explain, it wasn't cancer–it definitely wasn't cancer–it was an unspecified benign bone lesion, and if they'd just cut it out, I'd really appreciate it. But they didn't even want to look at it, they didn't want to x-ray it, they didn't want to examine me. I was frustrated and upset and tired. I had been trying to deal with this thing since around my birthday at the end of July. Months went by, and the pain in my arm became so intense that it was keeping me awake at night. That pain and lack of sleep, in turn made me constantly fatigued and sore all over.
Early on, I had found myself a new primary care doctor, as my old one had moved out of town since I had last needed to visit him. I think I picked her because her office was within walking distance of my apartment and when I Googled her name, there were no negative reviews on the first page that came up. She always seemed very keen on helping me get well, but she herself very rarely diagnosed or treated any of my problems. It was on her recommendation that I visited many of the orthopedists who tossed me out. To her credit, she did send me to get the only x-ray taken of arm during this entire debacle, though, to her detriment, it was, for some reason, taken at a shady lab, where no one checked to make sure it was useful. Those few doctors that actually agreed to look at the image thought it was too dark and blurry to determine anything. As I was repeatedly turned away from doctors who didn't want to so much as take the responsibility of even suggesting a different course of action to get help with my arm, my primary care doctor was finally able to treat me for something that had likely come about due to the stress and anxiety of trying to deal with everything: two long bouts with pneumonia.
Just after Thanksgiving, my dad flew Better Than The Machine to Colorado to perform at his 50th birthday party. For the first time in my life, the altitude got to me. I had been away for longer than I'd ever been away before. That made me sad, because I always made fun of people who couldn't handle the altitude. Just tremendous amounts of fun. Take that, you sea-level dwellers! But now, here I was, exhausted and hurting. My arm was no help. I was trying to drive the group around in a mini-van, but had to turn them over to my sisters a few times because I was so sore. We had a great performance at my dad's party, but for the first time ever, I had trouble singing "Give A Shit," our big musical finale. My voice cracked and squeezed, which pissed me off for the rest of the night. I'd sang my heart out to crowds who wanted to rush us off stage before, but I couldn't sing in front of my dad's friends. After several days, I returned to New York with the rest of the group.
My arm only got worse. I didn't really know what to do. One night, I finally walked over to the ER at Columbia Hospital and waited for 9 hours to be examined. The doctor told me to go home and take two Tylenol. I walked outside and called my mom. She told me she had talked to Dr. Glancy and had sent him a copy of the dark, blurry x-ray my doctor had taken. Although he wasn't actively seeing patients anymore because he was in the process of retiring, Dr. Glancy took a look at the x-ray and thought it looked a bit suspicious. He had been able to see all tiny fractures in my arm when it had first broken all those years ago, and once again, he seemed to be the only one who could see something wrong now. He told my mom that if she flew me home, he'd see to it that someone with a full understanding of our background together would see me as soon as I got into town. It was a very nice offer, and it was tempting, but it seemed sort of ridiculous. I had only been back in New York for a few days–there had to be an easier way of dealing with this than flying back across the country.
The next day, I went with Amy to visit her dad Rick at his office next to Grand Central. We would go by and pick things up from time to time, though less so since we had moved up to Sugar Hill. Amy had been at the ER with me the night before. She sat with me for several hours, until it became apparent that my case was very low on the totem pole. I had told her to go home, because it was getting late and she had work in the morning. I told Rick about this latest futile development in my months long saga and he shook his head. Amy and her family were always very supportive of me. And I always felt like Rick was a guy I could count on to tell it to me straight. He looked at me, and looked at Amy, and he looked down. Very respectfully, very fatherly, sad for me about what I'd had to go through, he said, "Man, this is really bumming me out."
We left Rick's office, I called my mom, and told her I needed her to fly me home.
As my mom and I continued home down the highway through rush hour traffic, discussing the problems with the tiny MRI machine at Children's, my mom's antiquated cellular telephone rang. I assumed it was my dad, calling to see if we wanted him to pick up something for dinner. I answered, and an unfamiliar voice, with a cowboy twang greeted me.
"Hello?" the voice asked, "Is this Laure Levin's phone? Is this Reid?"
"Uh, yeah, yes it is," I said, shrugging at my mom.
"Reid, this is Dr. Travis Heare, from orthopedics. Dr. Glancy–"
"Oh, hello, Doctor!" I responded, enthusiastically, "You heard about the MRI today? I guess my folks talked to you and they said we could coordinate something tomorrow. I'm looking forward to meeting you–"
"Reid," he interrupted, stern but not unkind. He spoke slowly, slower than his drawl should have caused, "Reid, I'm sorry we haven't met, and I don't usually make these sort of phone calls, but we've been trying to track you down, and we found this number."
"Okay."
"Are you at home?"
"No."
"Are you going home? On your way?"
"Uhm, well yeah, we were at the hospital for a long time trying to get me into the MRI."
"I'm going to need you to turn around and come back to the hospital. Are you driving the car? You might want to pull off the road."
"Yeah, yes–but I'm not driving," the moment I said this, my mom grew very concerned.
"Okay, well, would you like me to wait a minute?"
I pulled the phone away from my mouth for seconds that I felt I couldn't spare, I looked at the highway for a minute, I saw no good place to pull over, I looked at my mom, who was looking at the road and at me, I looked back at the road and I said to her, "Pull off at the next exit." I think she asked why, and I think I just repeated that she needed to pull off.
"No," I said into the phone, "what's going on?"
"Reid, you have leukemia," he said some other things, and I couldn't hear him. I told my mom to pull the car over, and she was so worried. But I wouldn't tell her until the car was stopped. I didn't know how she would react. I didn't know how I would react, saying those words, seeing what it did to her.
My gaze was locked straight in front of me. Leukemia? "You've got to stop the car."
"I'm looking for a place, there's nowhere to stop, please just tell me what's going on!" She was frantic, concerned. She knew something was very wrong. We had pulled off the highway, but were stuck in a sweeping mass of cars going through green lights, forced to turn, nowhere to exit, nowhere to pull off.
Not leukemia, god not leukemia! "Mom, stop the car!" She was tearing up, and so was I.
Dr. Heare was still talking. I interrupted whatever he was saying, "Is there any chance it's wrong?" No, one of the blood tests I had taken earlier today was irrefutable, the numbers were off the charts. And I was putting myself in serious danger if I did not return to the hospital immediately.
The car came to a halt in a parking lot. "Mom, I have leukemia." What the hell is leukemia?
* * *
Yesterday, December 6, marked the fourth anniversary of the day I was diagnosed with pre-B cell acute lymphoblastic leukemia. Although several family members saw reason to celebrate this day during the past couple years, I never felt any good reason to give the day much special recognition. After all, it was the day I found out I had cancer, the day my life was irrevocably changed for the worse, diverted suddenly from the course I'd long been charting to one that wasn't on any map I'd ever seen or heard of. It was a terrible day, as far as I was concerned.
It's always seemed like there are so many happier and more meaningful days whose anniversaries we could choose to celebrate. For instance, the day my leukemia went into remission. Or the day I was released from the hospital following all those long months of rehabilitation after nearly dying from hemorrhagic pancreatitis. Or the day I finished cranial radiation. And I looked forward to being able to celebrate the day I finished chemotherapy for years, probably starting just about the moment I received my first chemotherapy infusion. And the truth of the matter is, there's no reason I can't celebrate all these things, not to mention many other accomplishments and benchmarks, big and small, achieved and yet-to-be-achieved along the very long and difficult journey of beating leukemia, finishing chemo, and recovering from all of it.
But after four years, I finally understand why December 6, 2007 is so special and what it means to me. It wasn't the day the problem started, it was the day the problem started to be fixed. It was the day I was given an answer I may not have liked, but it was the answer to the question I had been seeking endlessly for months. And on that day, so many small events and decisions, both in and out of my control, from so many years of my being, came together in a grand confluence that saved my life.
We had finished speaking to Dr. Heare on the phone. We drove back to the hospital and I called my dad and Amy to tell them the troubling news. My mom and my dad and I reentered Children's that night, dumbstruck. We were met by an oncologist named Dr. Meg Macy, who explained to us exactly what acute lymphoblastic leukemia was: a cancer of the white blood cells that compromises both the immune and circulatory systems. She explained why Children's–this place I'd ended up because of a long story that began with me playing basketball when I was 12 years old–was the best place for me to be treated for this pediatric cancer. And she explained that my white blood cell count was extraordinarily high–there were hundreds of thousands of the compromised white cells per microliter–putting me at such extremely high risk that there had been a massive effort to make sure I didn't get home before they got me back to the hospital. The oncologists did not believe even a night could be spared.
If I hadn't flown in that day, and hadn't gone straight to Children's, and hadn't got my blood tested, and hadn't had a phone Dr. Heare was able to find the number to, and hadn't gone straight back to the hospital, it's quite possible none of those other days I considered to be more happy and meaningful would have ever existed to be celebrated.
That's part of why December 6 is important. The other part is that, on that night, in the ER at Children's, my parents and I were joined by close family and friends, who all lent their support. Those who couldn't be there in person talked to us on the phone. This group only grew as the days and weeks and months passed. I owe the fact that I'm still alive to many, many wonderful people. Too many people to list, and certainly more than I'm even aware of. Their involvement, from well-wishes to visiting me in the hospital to praying for us to sitting with my parents and talking to sending cards to bringing food for the family to keeping me in their thoughts, and all the other infinite ways people supported my family and me, it all stemmed from that day.
They saw me, a small sapling in a hailstorm, and they quickly began planting themselves around me, connecting their root systems to mine, helping my roots to grow strong and robust and to be able to dig deep into the ground. And others heard through any number of means what had happened, and this group branched out and formed beautiful green leaves. From those branches grew many more branches and lots of small twigs, each with its own unique leaves, each feeding into a system that collected energy, strength, and will for me. A gigantic tree of life, planted on a day of sadness, that I will pay respect to and celebrate for the rest of my life.
–Reid.
* * *
This is a comic I happened to read yesterday. It's from one of my favorite ongoing webcomics, xkcd. It seemed appropriate, if not eerie and entirely improbable that I should have discovered it yesterday. Click on the image for a larger version if you can't make out all of the words. Or, even if you can read all the words, I still highly recommend clicking anyway and checking out more xkcd (it's a webcomic of romance, sarcasm, math, and language–it's got something for everyone).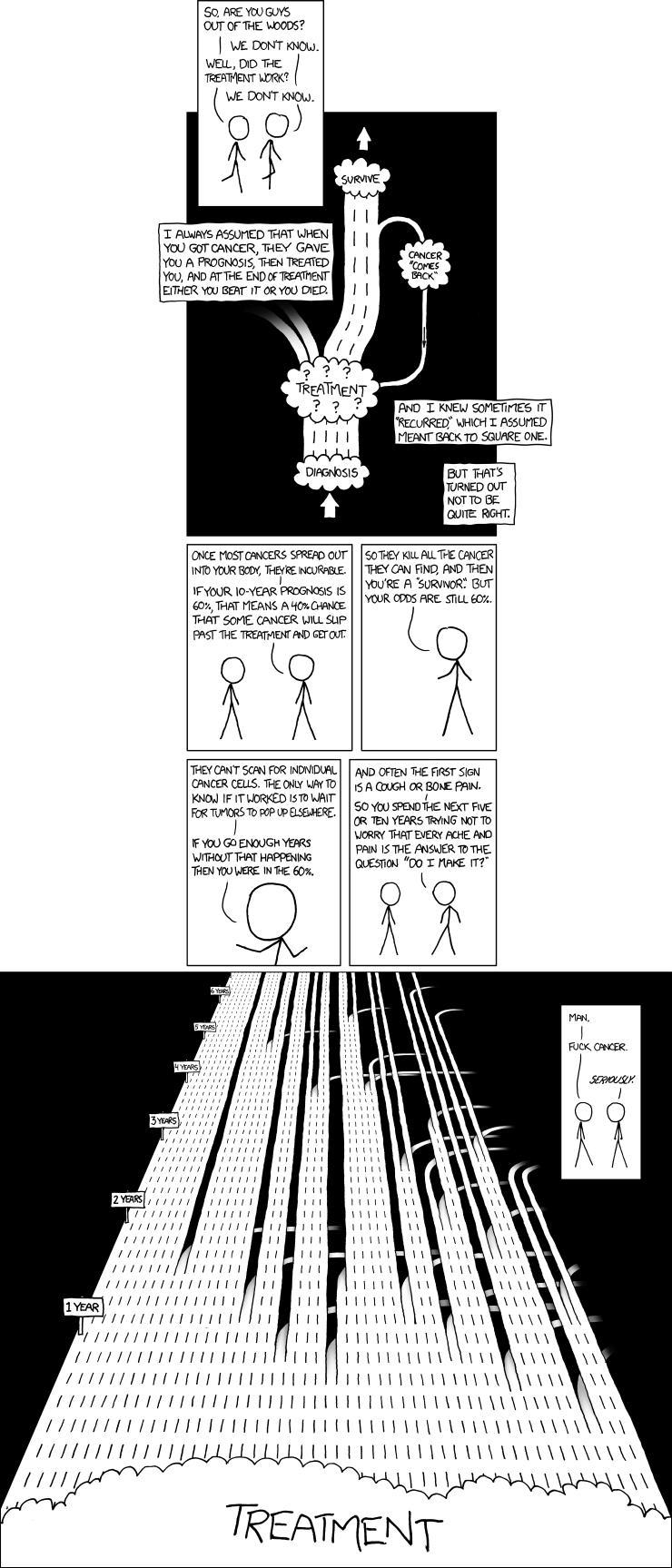 3 Comments so far
Leave a comment
Leave a comment
Line and paragraph breaks automatic, e-mail address never displayed, HTML allowed:
<a href="" title=""> <abbr title=""> <acronym title=""> <b> <blockquote cite=""> <cite> <code> <del datetime=""> <em> <i> <q cite=""> <s> <strike> <strong>